Blueprint Fitness
Blueprint Fitness offers exclusive personal training gym facilities based in Whetstone N20, and Hadley Wood, Barnet EN4, providing the highest quality Personal Training to clients in Barnet, Finchley, Elstree, Southgate, Whetstone and surrounding areas in North London. Our combination of experience coupled with a scientific approach to personal fitness training will get you the results you want, efficiently and safely.
'No gimmicks. No fads'.
Our experienced personal trainers will create a bespoke training programme specific to your goal, and will coach you through each step of your journey. All that we ask is that you bring your best effort to each and every session; no half measures!
We specialise on weight loss, improving muscle definition, muscle gain, and event/competition preparation. We will cover all angles needed to maximise results. This will be a sustainable balance of training, nutrition and mindset guidance.
Personal Trainer & Blueprint Director - Chris Constantinou
Founder of Blueprint Fitness, Chris Constantinou is an established Personal Trainer based in Whetstone, Barnet, and has been working within the fitness industry at various locations in and around North London, particularly Whetstone, Barnet and Finchley, since 2008.
He has a proven track record in enabling clients to achieve their fitness goals; his passion for fitness has driven him to set up Blueprint Fitness with his partners.
Chris is a firm believer that a fitness professional should reflect their teachings in their own lifestyle and image, and "live the life". He therefore made it his goal to compete in a drug tested natural bodybuilding competition in 2011 with the British Natural Bodybuilding Federation (BNBF). Chris placed 2nd in his first regional championships with an invite to the British finals where he placed 2nd in the lightweight class.
Since then Chris has competed and won the following titles:
BNBF 2011 Central – Novice Lightweight – 2nd Place

BNBF British Finals 2011 - Novice Lightweight- 2nd Place

BNBF 2013 Central - Middleweight 1st Place

BNBF 2013 Central – Best Male Presentation

NPA 2013 SE Championships - Middleweight 1st Place

BNBF 2013 British Finals- Middleweight 3rd Place

UKBFF 2015 Mens Physique - 2nd Place

UKBFF 2017 Mens Physique - 2nd Place
Chris is passionate about the fitness industry and committed to improving the health and wellbeing of individuals. He approaches his work with a high level of initiative, reliability, empathy and determination.
'You don't have to be great to start, but you have to start to be great'
Our Services
Most people lead a highly demanding lifestyle and it can often be a struggle to prioritise an effective exercise regime. At Blueprint Fitness, Whetstone N20 and Hadley Wood, Barnet EN4, our specialised personal trainers ensure you work out to your full potential and utilise the most effective personal training methods available to reach your specific goals.
When booking in with one of our personal trainers we will undertake a detailed bespoke consultation which will consist of a full body composition and movement assessment followed by agreeing specific targets based upon the goals you wish to achieve.
Whether your goal is simply to shed some excess body fat and improve your body composition, or get fitter and stronger to improve your sporting ability, the initial consultation will allow us to discuss specific goals and construct an individual, bespoke training programme to provide focus and steps to achieve your targets.
By setting you specific, measurable goals, we maximise your ability to progress during your training programme which enables you to maintain motivation. Your coach will also continue to monitor your progress throughout your training programme to ensure that you remain on track to achieve your targets.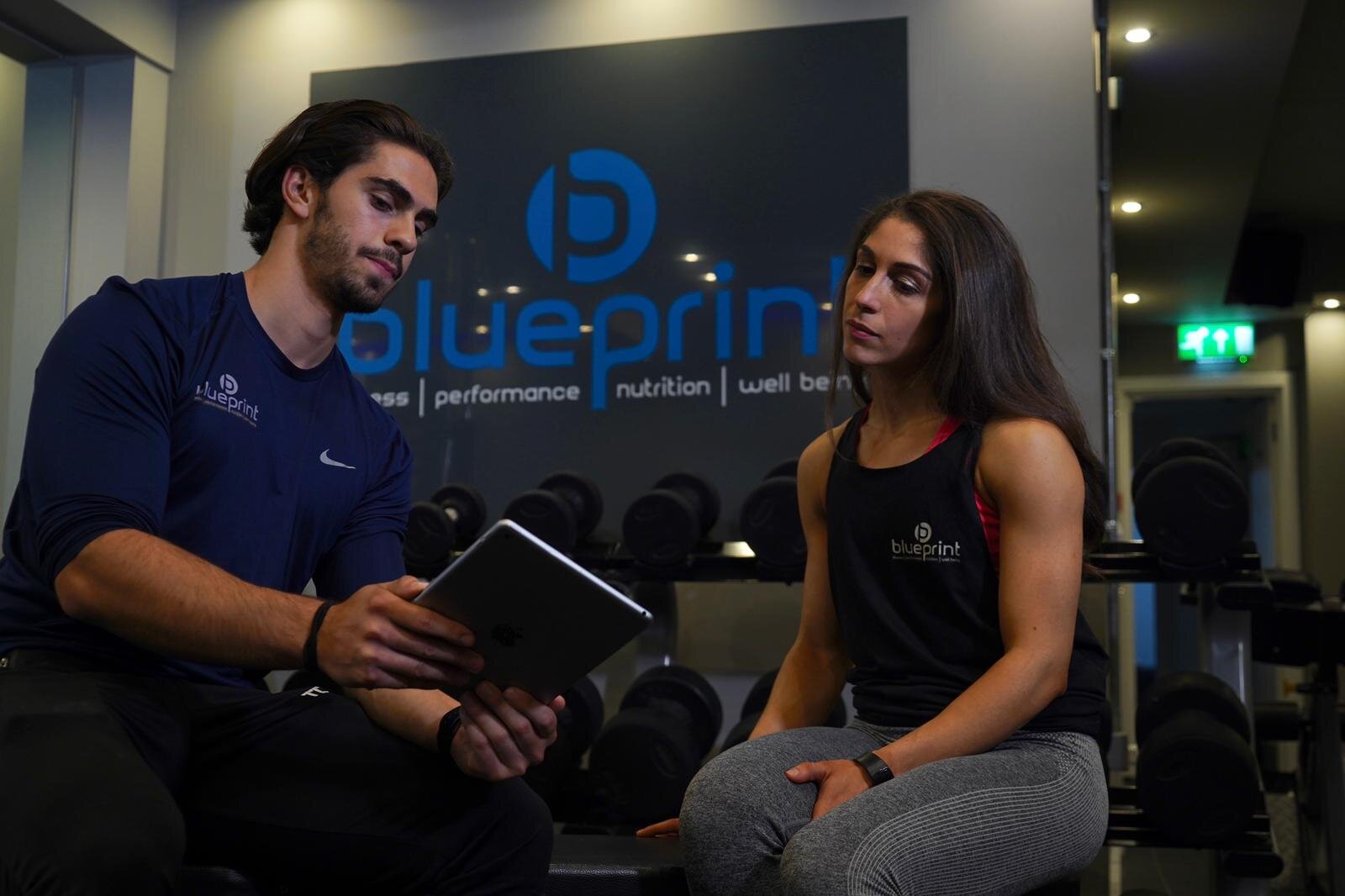 Our Training Program consists of:
STEP ONE - INITIAL CONSULTATION
STEP TWO - NUTRITION ASSESSMENT
STEP THREE - PROGRAM DESIGN
STEP FOUR - YOUR PERSONAL TRAINING SESSIONS
STEP FIVE - ONGOING SUPPORT AND ACCOUNTABILITY
Muscle Building
If muscle building is your goal, our personal training programme will deliver positive results, and quickly!
We work with people of all abilities, from those seeking a more toned body in time for a beach holiday, to those competing at the highest level. Your nutrition and training plan will include everything you need to increase both your STRENGTH and MUSCLE MASS. The personal training programme you'll receive will be tailored to you. It will take into account your unique physiology, training experience, and goals. All of our personal trainers walk the talk, so you'll be in safe hands at Blueprint.
The process of building muscle is very similar to losing body fat. One is that you need to be in a calorie surplus (eating more calories than you are burning) and the other is that you need to be in a calorie deficit (burning more calories than you are eating). Along with that weight training along with progressive overload Is number one priority. Are you getting stronger over time in your compound lifts?
The process of building muscle is very similar to losing body fat. One is that you need to be in a calorie surplus (eating more calories than you are burning) and the other is that you need to be in a calorie deficit (burning more calories than you are eating). Along with that weight training along with progressive overload Is number one priority. Are you getting stronger over time in your compound lifts?
When it comes to building muscle hard work, patience and consistency are probably the three most important traits to have when approaching this. There is no way round it and there is no end result. It is important to adopt a training style that the individual will enjoy. Enjoying the process of learning new techniques and progressing your training over time is essential for long term sustainability. If you do not enjoy it then the chances are you may not stick to it.
Along with eating in conjunction to your goals, learning the fundamentals are essential. The big compound lifts such as: Squats, Deadlifts, Rows and Presses will produce the most amount of testosterone leading to quick muscle gains. Incorporating both strength training and hypertrophy is the best way to go to get the best of both training protocols. The stronger you become over time will lead you to be able to lift more weight when it comes to hypertrophy or high repetition work. Progressive overload over time will ensure that you are heading in the right direction. Progressive overload can mean an increase in weight, sets or repetitions over time so recording your numbers are vastly important.
In terms of nutrition you will learn and adopt a nutritional plan that works around your lifestyle. You will make sure that you are eating the right balance of protein, carbohydrates and fats that compliments your training. You will look to fuel your workouts and time your carbohydrate intake around your training so you can get the best possible approach to lifting weights.
As building muscle is very gradual, recording your progress as much as you can will be your number tool. At Blueprint Fitness each client has their very own online programme hub. We use monthly photos, girth measurements, your individual programme hub and your own online weight tracker so you know every session, every week and month you will have a review of your progress which you know you are getting.
With your own accountability coach there with you all of the way you can set realistic short term and long term goals to ensure you are developing your education of your nutrition, weight training and how this is going to help you build muscle at a rate you will be satisfied at.
Female Fat Loss
We have many female clients that have struggled with their body fat following pregnancy, menopause or ladies that simply want to lose weight and tone up before a big event such as a wedding. We know it's not easy, and we know that it takes commitment and discipline to make time for training sessions and avoid the temptation of foods that will adversely affect your nutrition and weight loss.
Bring your motivation and determination to Blueprint Fitness and we will help you to achieve the body shape that you want. Stick to the nutrition and training plan that we will design just for you and you'll very quickly see positive results!
Our female fat loss package goes beyond just excess cardio and a high restrictive fad diet. The Blueprint Female fat loss program uses up to date science combined with years of experience to bring you the most effective results based program. The program uses a combination of weight training and conditioning combined with effective nutrition to improve muscle tone and achieve maximum fat loss. We provide guidance using a full proof system including training, nutrition, recovery and detailed weekly check ins with your assigned personal trainer to ensure you stay on track.
Upon completing this program will not only see and feel life changing results but also gain knowledge on how to train and balance nutrition for sustainable results. With our experience with female fat loss we are confident that whatever lifestyle challenges you feel have held you back in the past this program will give you the personal support you need to achieve your goal.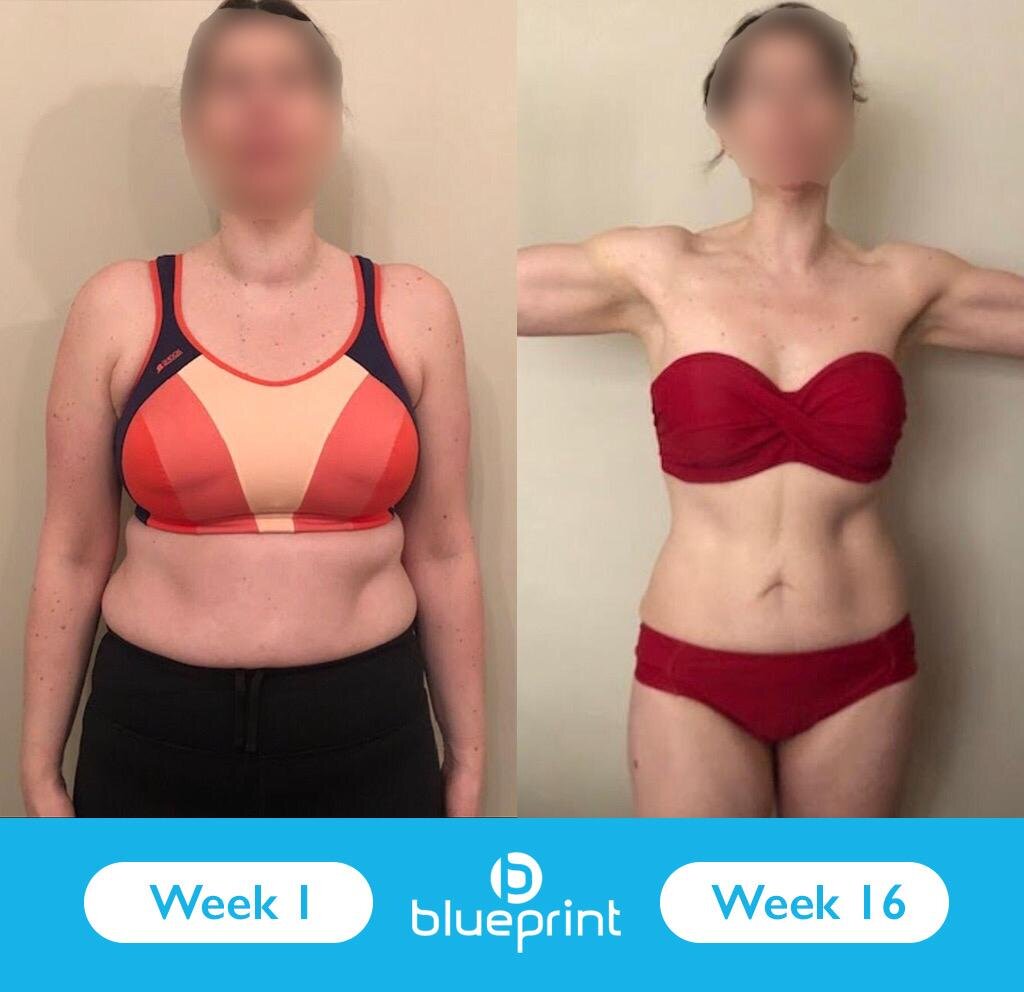 Male Fat Loss
If it's body fat that you want to lose, we have a unique fat loss programme that we promise will produce fantastic results for you! A big promise indeed, however, if you are prepared to work hard and strictly follow the training and nutrition plan that we have developed specifically for you then life-changing fat loss results can potentially be yours. If you think it's too good to be true, you can check out our client testimonials and look at many of the progress pictures throughout the website to see what we've helped our clients to achieve. You would be amazed at how much weight can be lost in a short space of time whilst toning and improving your body's physique.
We have created a Male fat loss training system that is guaranteed to produce results. The Blueprint Fat Burning workouts and nutrition guidance used is based on up to date scientifically proven research. Each program is tailored to our clients needs regardless of experience or ability level to ensure maximum efficiency of time spent in the gym.
We provide guidance using a full proof system including training, nutrition, recovery and detailed weekly check ins with your assigned personal trainer to ensure you stay on track.
Our system ensures that you will receive the necessary support to reach your fat loss transformation. We put 100% into helping clients reach their goals all we expect is our clients put in the same and are prepared to work hard and follow our professional guidance.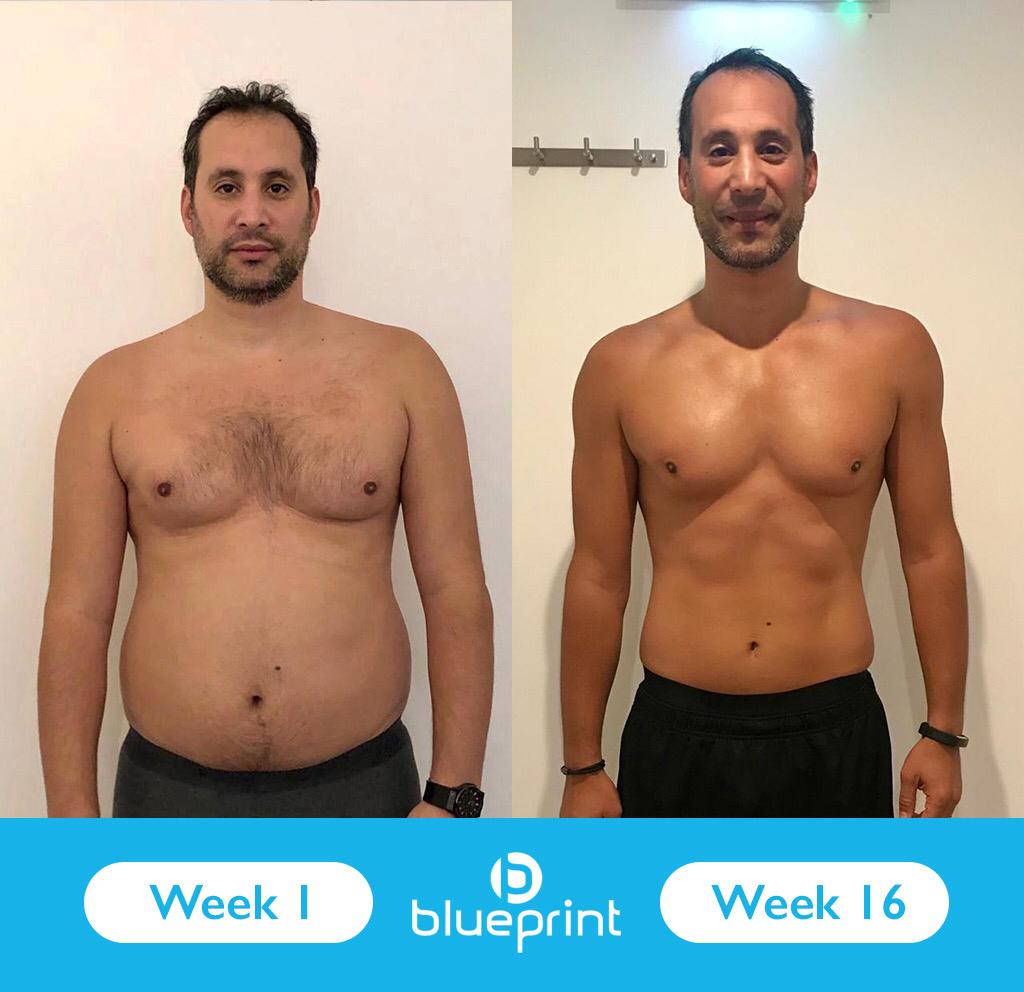 Our Personal Trainers
Blueprint Fitness takes pride in offering elite personal training with a tried and tested methodology. Each of our personal trainers are distinguished by their ability to practice what they preach; living the healthy lifestyle we advocate at Blueprint.
The team are highly experienced and undertake weekly in-house team training in addition to keeping up with the latest scientific literature, to give the best possible service to our clients. This gives the team an edge, knowing all the tricks both inside and outside the gym, to achieve the best performance from our clients, regardless of their fitness levels.
We are totally committed to the science of body composition, strength and conditioning. We have assembled a team that covers all exercise and nutritional backgrounds, so we know that we can meet our clients' needs with unparalleled excellence.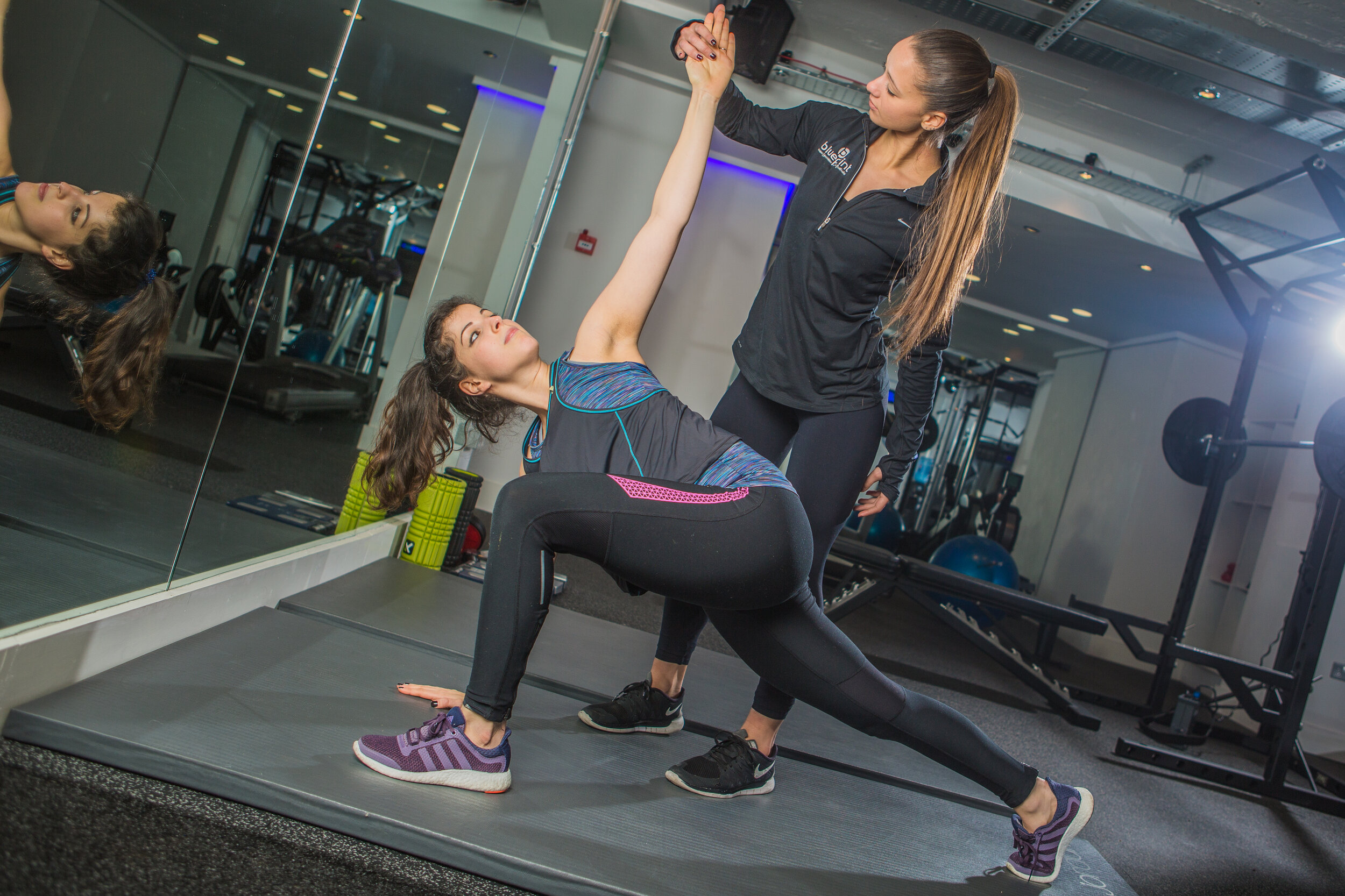 Our Culture & Philosophy
BLUEPRINT - 'An original plan or prototype that influences subsequent design or practice' (Collins English Dictionary)
Blueprint Fitness was created for one reason. Effective, results-based personal training.
Through education, experience and dedication, our coaches are able to provide you with the most effective personal training systems to ensure you reach your fitness goals through healthy, natural and optimal methods.
Each individual has their own starting point and a vision of what they would like to achieve. This is very similar to an architect having an idea that they need to turn into reality. The Blueprint philosophy provides all the techniques and information needed to create your own personal fitness 'blueprint' and turn it into reality.
Why Blueprint Fitness Personal Training in Whetstone and Hadley Wood, Barnet?
We are passionate, and we have the total belief that our philosophy will improve your fitness, performance, nutrition and well-being. At Blueprint we eat, sleep and breathe health and fitness. We love what we do and are constantly improving our knowledge base with ongoing educational material and courses to ensure we keep up to date with the fast moving fitness industry. This allows us to give the best possible coaching and advice to our clients.
At Blueprint Fitness we will help you reach your goals with the most effective training and nutritional methods in the industry. We are not "rent-a -buddy". We are here to get a very specific job done - to complete the task that you have set us.
Why not check out some of our Client Testimonials. See what they have to say and if you'd like to join in their success, book your FREE CONSULTATION today!
What Makes Blueprint Fitness Unique?
The most important aspect of personal training above all is that WE CARE. We care about your health, wellbeing, and your results. We invest everything we have in helping you to reach whatever goal you have set yourself.
Our hunger and passion for success motivate us to leave no stone unturned. We motivate our clients, and we chase reluctant dieters as part of our ongoing accountability. We will help clients to make the best choices possible with social occasions. We know it can be hard! We help in every possible way that we can - because we really care.
For the entire team at Blueprint Fitness, this is much more than just a job. It is a passion.
So, Why Train at Blueprint Gym?
We are an appointment only private gym, so there is guaranteed privacy and no need to queue for equipment. Your workouts will never be compromised hanging around waiting for equipment.

We are NOT a hardcore gym, but we ARE here to deliver results. We welcome anyone into our gym regardless of ability level, as long as you have the right attitude. If you are not serious about wanting to improve your health and fitness there are plenty of high street gyms that may be more suitable.

We are team players. We have created an environment where everyone pushes each other to progress, and become the best version of themselves.

We have all the essential equipment in order to get the maximum results in the minimum time. Regardless of the goal, our equipment can be adapted to help you reach your fitness goals. Have a look at our Client Success Stories to make up your own mind!